Workbooks
Instant Immersion Workbooks
Have fun, save money and reach your goals faster – Guaranteed!
Whether you're learning a new language for vacation, studying in school or simply polishing your fluency, our worksheets are an excellent tool to practice what you learned. By combining written vocabulary, conversational, and cultural skills, you'll be able to test your skills in just minutes a day!
Essential vocabulary, dialogues & exercises in every chapter
Phonetic pronunciation & translations as you go
Cultural impressions with everyday native expressions
Money Back Guarantee – 90-day, no-risk money-back guarantee included with the purchase.

Instant Immersion's best-selling products have helped more than
6 MILLION
people with their language-learning goals.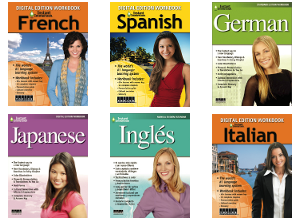 A fun, easy and affordable way to supplement your learning!
Download and print the full-color PDF worksheets and start learning immediately. The workbook provides excercises that help reinforce your learning of a new language. Benginning to Intermediate excercises are provided that help with any language course - Instant Immersion products or formal classes.
Invest in yourself and start learning today!